NORTH POLE, Night Rebels Empire – The Night Rebels Army, who have been inactive recently, has faced another big twist. In a really shocking turn of events, the Night Rebels army leadership has decided to shut down the army until future notice.
History
On December 30th, 2015, in a shocking turn of events, xxToysolider decided to shut down the Dark Warriors Army. While everyone was busy emailing Dark Warriors Legend, xiUnknown and Dark Warriors Creator, Ambrosha; Wozza, Haroonniaz12 and Tirodragon came together to create a rebellion against this shutdown. This rebellion resulted in the creation of a brand new army, the Night Rebels.
On January 3rd, 2016, the Night Rebels held their first event, which was known as "Back to School Army Clash." They were fighting against notable armies,  such as the Army of Club Penguin, the Army of Republic, the Rebel Penguin Federation, the Ice Warriors, and the Nachos. A picture of their event, can be seen below: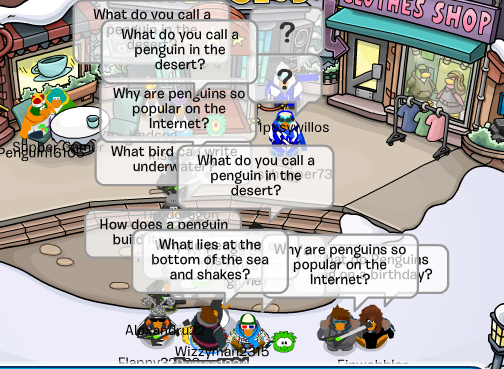 <><><><><><><><><><><><><><>
About the latest generation:
In late December, the Night Rebels had disappeared from the community. After being alive for almost a year after their creation, it seemed that it was time for the Night Rebels to shut down. However, on December 29th, Night Rebels Creator, Haroonniaz12, posted a statement on the website stating that the army was not dead. This is what he said:
Hello Believers,

I want to tell you that I am not gone forever and I will continue once I got hold of my stuff because when I do NR will be back and there will be NR everywhere like last time.I apologize I left because I had exams and its sad that no one was capable enough to get hold of things like I did not being proudy shit but its true.Anyways I have to inform you that NR will be back soon and we will be huge. This ain't over our haters keep saying random stuff but once we get strong everyone wants to join so lets start working on return I will be back someday around this week and when I do Revolution continues I also want to thank people who vote for me in Cpac,its great to know i have so many lovers anyway let the Revolution Continues.
The next day, Kyle103, Night Rebels Legend, also made a post on the website stating the return date and time. You can read the post below:
Hey Night Rebels!

Today, Haroon and l has explained on what we should do with the army and the anniversary after a few week of struggle rise.

The Night Rebels are making the return date on Saturday – Monday(somewhere that)!

The date of the anniversary is Dec 31st right before New Year Eve! Also, we have plenty of changes throughout the armies at this day. I want everyone to be happy with this new changes. For those who complained about not listening, well, this time its going to be fixed. All of it.

– New leadership changes

– New rules

– Rank changes

Revolution of the Night! Ignore the haters and the outside of the armies!

~Kyle103 and Haroon Night Rebels leaders
On December 31st, the Night Rebels officially held their return event. During the event, the Night Rebels managed to get 15+ troops. Can they continue to be active, or will they slowly go away with time? A picture of their return event can be seen below:
<><><><><><><><><><><><><><>
The Death
If we review last week, the Night Rebels army yet again entered inactivity. Following this, the Night Rebels army leadership has decided to shut down the army.
On the 12th of January, 2017, Night Rebels leader, Kyle103 made a post on the army's website which was entitled "No Excused, all owners should read this!". This is what the post said:
As you can see, we haven't done anything for the past few days, since Monday and that needs to stop. We have a few people who will return, and there will be no more excuses for the army.

Owners : Whether it took you 1 year or 5 years to get to your rank, you need to realize that you are the highest responsibility in the army. You are role models to YOUR troops, and you are LOYAL. Anybody asked you to join an army, report it to leaders immediately. If you have been caught cheating, or left us for another army, we will not be asking you to come back if you became unloyal or ditched us. You shouldn't act cocky or power-hungry, or else you'll probably become overthrown by your own troops. If you act like a child and swear around them then you look like a complete fool. Any owner caught swearing OR fighting will be demoted until further notice. It is against the rules by law, and you need to enforce them. You don't just become an owner and do nothing, you don't have the rights to become an owner. You shouldn't just sit there, just because you got a shiny orange pawn, doesn't mean that you shouldn't do nothing, period. You should also listen to leaders whenever you do, and you should be recruiting if you feel bored.

From now on, all owners should be recruiting. If an owner doesn't follow this step, demotion will soon to come. No more excuses.
In this post, Kyle103 mentions how the army has gone inactive and none of the owners are trying to get things going. Kyle103 also releases an ultimatum for owners stating that they will be demoted if they don't recruit. I decided to visit Night Rebels chat is this is what the chat looked like:
The chat was highly inactive, which no owner or mods online. I could only see the bot posting about the training session and Pokemon GO.
Kyle103, Night Rebels leader, made a post on the army's website stating about the situation and what can the army's troop expect in future. This is what Kyle103 said:
Hey Night Rebels!

Yesterday, Haroon let Flen take over the site and think the site was hacked but he was doing it for fun. Anyways, a lot of you may hearing why Night Rebels haven't have any events yet, after the return event. Well, we had a break day for almost 2 weeks in a row, since Haroon was busy.

I am sorry for those who stayed to us and those who stayed loyal to us. I am also sorry for those who waits for us during the terrible long break day. You can join other armies, because l am closing this army down for good. I will add the people for those who stick to the loyal army, in the HM @ Hall Of Fame page. You guys deserved it.

We did so well during the past few years back, maxing automatically 40+ during the PB, and War. This year of Jan 2017, we maxed 30 during our return event, but yeah it's really sad to say this but – this army has to go, after a long break day that have been for 2 weeks.

Night Rebels from the end of 2015 to 2017 = 1 Year Anniversary.

Until then,

This is the last time you will ever see this post, and the last time you will see this motto that has writing on this post.

REVOLUTION OF THE NIGHT! & WE BURN THE LIGHT!

~Kyle103 Night Rebels Leader & Legend

-signing off-
In the post above, Kyle103 mentions how the army has been suffering from past 2 weeks. Kyle also states that the army will shut down following the day, however, giving a small hint that it might return in the future. He also tells the readers how the army managed to it 40 plus troops during their events last year.
To know more, CPAC managed to interview SH, former Night Rebels leader. We asked SH what he thinks about this shocking turn o shutdown. This is what SH said:
CPAC: How do you feel about the shutdown of Night Rebels Army?
SH: Night Rebels was more of a back army to me. When I joined the community, I liked the people in NR since the was always chill and I was glad they were allies with NW. I soon cared less and less after my second time leading because of hate I got for leaving NR.
CPAC: Do you think army will be coming back any time soon?
SH: No, I don't, because I know Haroonniaz12 wanted the army to shut down.
CPAC: What was the main reason for the army's shutdown?
SH: I am really not sure, I didn't lead this generation of NR as I left for my home, Night Warriors. However, I think it was because of the troops being inactive.
CPAC: Do you think that this decision of appropriate?
SH: I think it was because NO troops seemed to show up even after Kyles' ultimatum for them to be on for events.
From the interview above, its pretty clear that SH feels confident that the army won't be coming back. He states that Haroonniaz12 wanted the army to shut down anyway. SH also says that the main reason why the army shut down, was because of the troops not being active at all and not bothering to attend events. Although SH was not a part of this generation, he still seemed quite sad because of the shut down.
The Night Rebels might return, or they might not. We cannot predict the future. At the end of my post, I would only like to say that time will tell us what the destiny has written for the Night Rebels army.
So, what do YOU think? Why did Kyle decide to shut down the army? What impact will this decision create on the CP Army Community? Will the Night Rebels re-open any time soon? We here at CPA Central value YOUR opinion, so comment down below and let us know what do YOU think!
DrFlen
CPA Central Reporter-in-Training
Filed under: Army Deaths, Army News, CPA Central GFX |